Jac Bunney
Age: 52
Area: Truro, Cornwall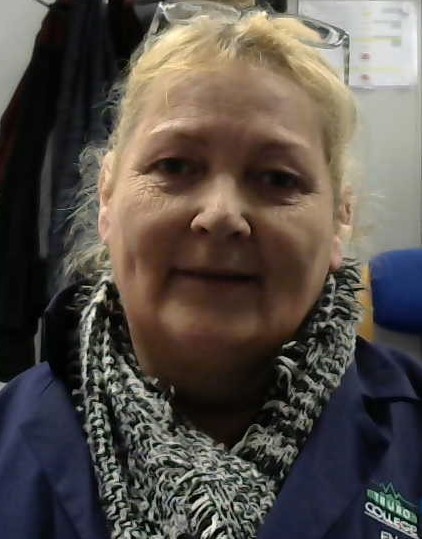 Train4Tomorrow bootcamp: Welding, Truro & Penwith College
At school in the 80s Jac Bunney had always enjoyed metal work but, despite having a passion for the work and a natural aptitude, she was directed towards more traditionally female roles, and metal work was not something she was encouraged to pursue.
After careers in caring, cleaning, hospitality and everything in between Jac was looking for a change.
Jac said: "Now that my children have grown up and left home, I felt that it was time to do something for me! When I saw the Train4Tomorrow welding course advertised on Facebook I thought back to my school days and discovering my love for metal work, and thought – I have to give this a go!"
Jac took part in the ten-week Train4Tomorrow welding bootcamp at Truro and Penwith College. During the course Jac attended the Bootcamp in the College's new industry-standard Valency Building every Friday for a mix of theory and practical lessons.
She said: "The practical aspect of the course was brilliant. We were like kids at Christmas when we got to put our theoretical knowledge to the test. It was great fun trying out the practical skill of welding and being provided the chance to get valuable experience and practice."
The course is split 50/50, with half of the course content covering theory and practical welding skills, and the other half focusing on employability skills.
Jac said: "If I'm honest I wasn't looking forward to the employability skills section of the course. However, the content of this part of the course is really valuable and despite working in many different careers and sectors I learnt how to make my CV stand out and be more professional."
Since completing the course Jac has been applying for welding roles in Cornwall and is delighted to have a role test arranged with Teagle Machinery, as part of the learner and employer brokerage activity. In the meantime she's been volunteering at Truro and Penwith College at future Welding Skills Bootcamps to help others gain the skills and experience she has.
Jac said: "I'm looking forward to my role test at Teagle Machinery. They are a Cornish-based family run business which really appeals to me, and are the market leader of agricultural machinery. It would be a wonderful place to continue to develop my metal work skills."

Hayley McKinstry, Director of Business Partnerships and Apprenticeships for Truro and Penwith College, said: "It has been inspiring to see how Jac and her fellow learners have rapidly developed their skills and confidence through the Bootcamp and all of the staff are very excited to see what they do next. The College is thrilled to have had this opportunity to welcome adults who are keen to re-train or upskill to participate in our technical and digital Skills Bootcamps and can't wait for the next cohort to join us in the New Year."
If you're interested in transforming your career and learning new skills, discover the range of courses available to adults (aged 19+) in the South West at www.train4tomorrow.org.uk/