Matthew Lambert
Age: 42
Area: Totnes, Devon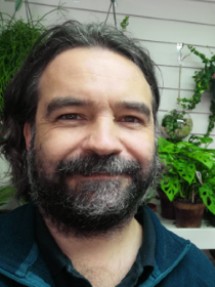 Train4Tomorrow bootcamp: Digital Insights, Exeter College
Matthew Lambert runs two garden and plant shops in Totnes, Devon. When the pandemic hit, it was vital that the physical store was supported by a strong digital presence, so when Matthew came across the Train4Tomorrow Digital Insights course on social media he was inspired to take part to improve his skills and, in turn, benefit his business.
During the 12 weeks Digital Insights bootcamp, delivered by Exeter College, Matthew has developed skills in Business Analytics, Digital Marketing and Software Development.
Matthew has big ambitions to grow the online side of the business and make it a successful operation in its own right. He also hopes to use his new digital skills to increase awareness of the physical stores online, so that he can continue to employ local people and expand even further.
Matthew commented: "The course has equipped me with all of the skills I need at this stage to take on this new challenge and make it work. I am really grateful to the whole team for their guidance and help during this course and the support from the other students and tutors has been amazing."

The course has covered how to develop a social media advert, software development basics and how to analyse data to give meaningful results. The skills Matthew and other learners have developed equip them with the tools required for a rewarding career in the growing digital sector.
For anyone thinking about taking part in a Train4Tomorrow bootcamp Matthew's advice is: "Just go for it!"
He continued: "The tutors were really friendly and helpful and made the lessons and course work really fun, explaining everything so well.  The support they offered and were willing to give was incredible and probably the best thing about the course.  I know it might seem daunting to try something new, but after the first 5 minutes on this course I was hooked and am so glad I took part."