Nguyen Bui
Age: 37
Area: Taunton, Somerset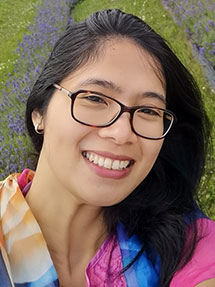 Trian4Tomorrow bootcamp: Digital Healthcare, Taunton & Bridgwater College.
Nguyen came to Train4Tomorrow bootcamp to combine her passion for improved health outcomes and digital technology, and to help realise her ambition to find employment in the digital healthcare sector.
Nguyen was delighted to see that the government-funded Train4 Tomorrow bootcamps did not require learners to have any previous experience.
The course, which takes place online over a 12 week period, offers learners the flexibility to study at home at times that suits them.
11 weeks in and Nguyen and her fellow learners have developed the skills to build applications, web, use Python computer language, developed an understanding of the healthcare sector and theories, practice and are working on their own digital project.
Nguyen said: "When I first saw the course which combines the digital and healthcare sectors, it was not something I had ever imagined studying alongside each other. And it combined two of my personal interests. The idea of combining healthcare and digital in a course motivated me. I was curious to learn new things and develop myself in a new environment."
Nguyen has enjoyed working on various projects, including one called "Work out, fill your fridge". This is a digital app to help elderly people get the regular exercise they need and remember to take their medicine.
The app provides a daily reminder for people to take their medicine, whilst simultaneously counting their steps. By achieving their set goals in these areas, users of the app can gain points to be redeemed at supermarkets, restaurants or clinics.
The app provides a clear benefit to elderly people, but Nguyen is also interested in how it might be useful for insurance companies. By establishing a healthy customer community, and lowering the expenses related to clients' health problems.
Nguyen said: "If you're looking to learn and you see a course that suits your needs, just contact Train4Tomorrow or one of the delivery partners and ask for more information like I did. The first time I saw the opportunity, I thought I didn't have the relevant experience to apply. I quickly learnt that the courses are designed for people with passion rather than experience, and I have got far more from the course than I could have imagined. Don't be scared – go for it!"