Peter Baugh
Age: 33
Area: Langport, Somerset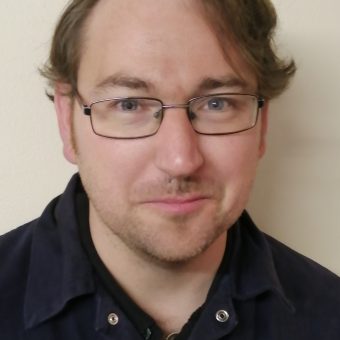 Train4Tomorrow bootcamp: Welding, Bridgwater & Taunton College
Peter Baugh had always been interested in metalwork and even has a small workshop in his garden in Somerset, where he makes garden ornaments. Whilst employed as a part-time bus driver he had looked into retraining and working in the sector, but found that the courses were all too expensive. 
Peter said: "I stumbled upon the Train4Tomorrow welding bootcamp on my Facebook newsfeed back in November . As soon as I saw the course I knew it was too good an opportunity to miss, and I quickly applied."
During the 12 week course, Peter and his classmates attended lectures and hands-on practical sessions at the Welding Centre of Excellence at Bridgwater & Taunton College.
Peter said: "The teaching was of a really high standard and the lecturers explained everything really well, and were always on hand to help in the practical sessions.
As well as theory and practical lessons, the bootcamp also includes Employment Workshops to help learners to develop their portfolio of work, CVs, and interview techniques.
Peter said: "The Employment Workshops gave me the confidence to start applying for apprenticeship vacancies. One was to Matravers Engineering, one of the top engineering firms in the South West, who had come out to talk to the class. Someone from Matravers Engineering phoned me up and asked a few questions, and then invited me out to come and look around. After meeting me and observing my welding skills (which was nerve-wracking!) I was invited to meet Nigel, the Managing Director, that afternoon. At the end of the day I was offered a role as a semi-skilled Welder Fabricator at Matravers Engineering.
"Mark and the team at Matravers were impressed with my practical ability and the life skills and experience I could bring to the company.
"I was over the moon! I'd applied for an apprenticeship and been offered a full-time role and the chance to continue my learning with a Level 3 NVQ. I accepted the offer the next day and started a week after the course finished."
For Peter the course has provided the opportunity to transform his hobby into a career.
Peter said: "The opportunities the Train4Tomorrow bootcamp has opened up to me has been amazing!
"After many years of trying to get into welding and engineering, the last few months have been a dream come true. I'm really enjoying my new role at Matravers Engineering and having the chance to work alongside experienced fabricators."
Mark Gillingham, Apprentice Training Coordinator at Matravers Engineering Ltd said: "Employing Peter after he completed the Train4Tomorrow Welding Bootcamp at Bridgwater & Taunton College has been a great success. With the training he received he has proven to be a good asset to the company. He has settled in well, and grown in confidence with the more he learns."
Lyle Durrant, Course Leader at Bridgwater & Taunton College said:  "The aim of the welding bootcamp is to provide people with the opportunity to retrain in the welding sector. The College is delighted that Matravers Engineering Ltd has recognised potential within the Train4Tomorrow welding bootcamp cohorts and has employed Peter, who was one of the first candidates to complete the course. Moving forward, the bootcamps will continue to train and build a pool of potential employees to help fill the skills shortage within the industry."
If you're interested in transforming your career and learning new skills, discover the range of courses available to adults (aged 19+) in the South West at www.train4tomorrow.org.uk