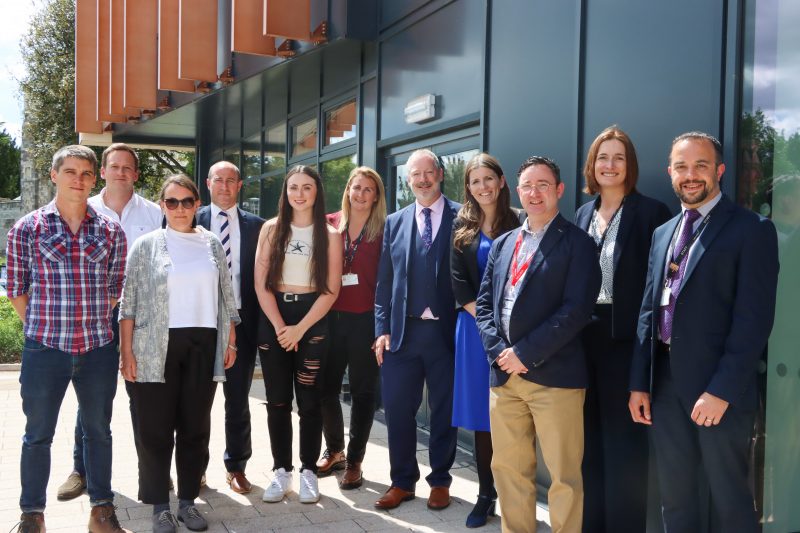 The Minister of State for Higher and Further Education visited Exeter College's Digital and Data Centre to find out about digital training opportunities.
Minister of State for Higher and Further Education, Michelle Donelan, visited Exeter College's sector-leading Institute of Technology Digital and Data Centre to speak with adult learners and apprentices about digital skills and their future career aspirations.
The Minister also talked to learners about the Train4Tomorrow Skills Bootcamps, which have been running since January 2021. Exeter College ran Skills Bootcamps in Digital Marketing and Apple App Development earlier this year, and will be offering more of the free training courses from September 2022.
The Train4Tomorrow programme, funded through the National Skills Fund, offers free, high quality, digital and technical training to employed and unemployed adults across the South West. The training is designed to meet industry vacancies, and gives people the opportunity to build up specific-sector skills and fast-track to an interview with a local employer.
John Laramy CBE, Principal and Chief Executive at Exeter College, said: "The Minister toured our Digital Data Centre, which is part of the South West Institute of Technology (SWIoT), talking to students from an array of different programmes from Skills Bootcamps to Data Analytics. The Exeter College part of the South West IoT, alongside the University of Exeter, aims to provide employers and students with a digital skills escalator to help equip both the city and region with the skills that it needs to grow and thrive."
Lucinda Sanders, Director of Higher Education and Adult Learning Exeter College, said: "We were very pleased to welcome Minister for Higher and Further Education, Michelle Donelan to Exeter College's Digital and Data Centre and to showcase the range of digital training and we are offering, including Digital Bootcamps at the core of our Adult curriculum.  A number of our recent bootcamp graduates were able to share their experience of how bootcamps had opened doors and enabled them to build their career in the digital sector."
Find out more about the Skills Bootcamps: www.train4tomorrow.org.uk
Find out more about the Digital and Data Centre here: https://exe-coll.ac.uk/about/sites/digital-and-data-centre/