Alicia Harrington
Oneserve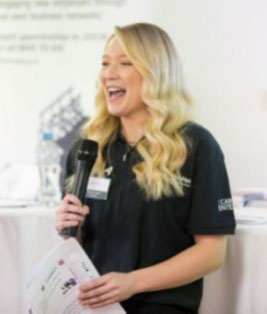 I am a Marketing Executive at Exeter based Software firm Oneserve. Completing my Level 3 Digital Marketing Apprenticeship with Exeter College two years ago has led me to have numerous amazing opportunities and enabled me to kick start my career and to grow and develop personally.
What is the SWYAAN and what do you do as an Ambassador?
As an ambassador I visit schools and attend events to tell my apprenticeship story to raise awareness with young people who are unsure of how to take the first steps on their career ladder. I work to highlight the benefits and debunk the assumptions and stigma that surrounds apprenticeships. Through my role within the SWYAAN comms team I also work to spread this message across social media.
What advice would you give to young people who might be considering an apprenticeship?
It is possible to get a job in your dream career through an apprenticeship! You can complete one in any industry, at the level that suits you, going all the way up to Degree Apprenticeships. Don't let people tell you that an apprenticeship can't get you to where you want to be, because the ability to learn on the job whilst simultaneously developing life skills are invaluable to you and your future.
Content provided by amazingapprenticeships.com/yaan/south-west/