Focus Training Group
Area: Plymouth and Exeter, Devon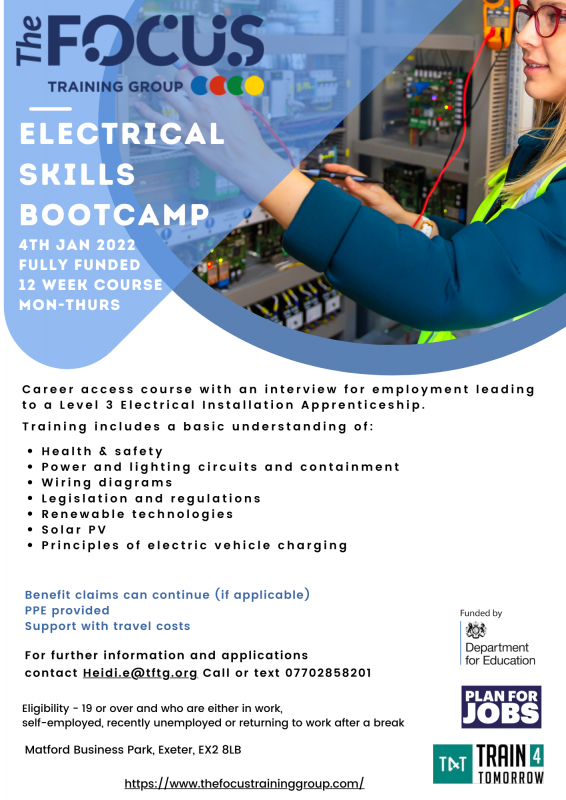 Train4Tomorrow bootcamp: Electrical Installation, Focus Training Group
The Focus Training Group's Electrical Installation Skills Bootcamp, taught in Plymouth and Exeter, is designed to support adults looking for a career in electrical installation. The bootcamp offers in-demand training to prepare learners for working in the industry, and supports learners to stand out when employers are recruiting for apprentices.
The course is completely free as part of the Train4Tomorrow programme which is funded through the Government's National Skills Fund. Train4Tomorrow provides a range of free digital and technical training bootcamps which are open to adults from across the South West. The bootcamps aim to help people develop in-demand skills that lead to higher-paid roles within growing sectors such as electrical installation.
The 12-week Focus Training Group Electrical Installation course includes health and safety, working with tools and equipment, power and lighting circuits, renewable technologies, solar PV, and understanding of legislation and regulations.
The bootcamps are designed for adults aged 19+, and no prior knowledge is required to take part. The training is offered free of charge to help remove barriers to learning, and to ensure that everyone has the chance to gain new skills.
Electrical Installation learner, Ben Porter, said: "The bootcamp has been really useful and I have learned a lot. I joined the course with no prior knowledge, just a keen interest to learn more.

"The practical aspects of the course have been my favourite part, but I have also gained theoretical knowledge, and have received my first aid and mental health first aid qualifications, which are vital for gaining employment in the industry.

"After I have completed the bootcamp, I am planning to move onto an apprenticeship to start my career in this new sector."
Once learners have completed The Focus Training Group Electrical Installation bootcamp they are offered a mock interview with Plymouth Community Homes and have a guaranteed job interview with local employer PCB Electrical Services.
Stephen Gilchrist, Training Specialist and tutor at The Focus Training Group said: "During the last 10 weeks I have been amazed by the progress of the group. Each of the learners have grown in knowledge, confidence, and ability. I am very proud of the work and commitment they have shown, and I wish them all the best in their future careers."

Heidi Evans, Traineeship Coordinator at The Focus Training Group, said: "The Electrical Pre-Apprenticeship bootcamp provides learners with the skills they need to stand out from the crowd when employers are recruiting for apprentices, and it has been fantastic to see lots of learners who have already completed the course progress onto apprenticeships.

"The Train4Tomorrow bootcamps play a vital role in meeting industry labour needs, and we're delighted to be working with local employer PCB Electrical Services to help tackle electrical installation skills shortage in the region."
Train4Tomorrow is open to adults aged 19+ and offers digital and technical skills training in just 12 to 16 weeks, enabling you to retrain for a new career or learn new skills. Best of all, leaners are connected with local employers and given a job interview, in their chosen field, at the end of the bootcamp. The Train4Tomorrrow programme aims to help adults develop in-demand skills, leading to well-paid roles within growing sectors, from  tech to construction.
With 13 technical and 4 digital bootcamps to choose from, all completely free, there are opportunities to move into cyber, digital marketing, IT, welding, engineering, construction, and much more. 
Find out more about the bootcamps on offer: train4tomorrow.org.uk